Push Pop Containers
Arcylic Display Stands
Books
Combo Packs
Gifts
Cupcake Wrappers
High Ratio Shortening
Looking for High Ratio Shortening? We have it right here for you. High ratio shortening is the preferred shortening for creating beautiful fluffy and stable cake decorators icing by professional cake artist around the world.
I you have never used high ratio shortening before in place of Crisco, you are in for nice surprise.
Why use high ratio shortening aka HRS, as opposed to Crisco?
Crisco works well but has a greasy mouth feel to it.
High Ratio Shortening has no greasy after taste.
Crisco does not hold up well in warmer conditions.
High Ratio Shortening holds up extremely well in all conditions.
Crisco shortening can break down fast making your roses and other 3 D creations fall to the side or flatten down.
High Ratio Shortening holds your icing roses and 3 D creations in a stable form giving height and volume that will not break down in less desirable weather conditions and climates.
If you are only creating small amounts of icing at a time it is suggested that you purchase in the smaller containers.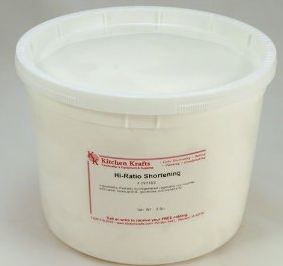 Purchase Now  for 9.95 per 3 lb tub (High Ratio Shortening)
If you are creating larger volumes you will want the industrial size blocks of HRS.
50 Pound Block High Ratio Shortening Available for Online Ordering


Alpine-C Icing Shortening – 50 Lb Alpine-C Icing Shortning: GR