High Ratio Shortening For ButterCream Icing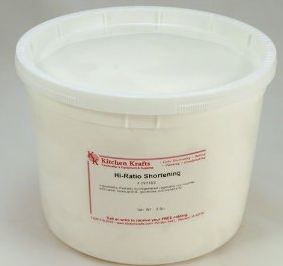 High Ratio Shortening has been preferred and used by professional cake decorators for many years. It seem lately though, that there is a new generation of cake decorators that are catching on to the popular "Cake Shortening". Some will also label it as "Icing Shortening".
The baking industry purchases the high ratio shortening in bulk. The HRS comes in 50 lb blocks and is used in higher production facilities usually at 25 pounds per each batch of butter cream icing.
High Ratio Shortening is used due to the benefits of flexibility and the end product results in the the cake decorators icing.
It helps to promote a creamier, lighter and less greasy product. The flavor profile and consistency is more pleasing to the palate.
It also holds better in summer months so you have less of a chance of the finished buttercream melting down in an undesirable room temperature.
When mixed at proper speed and timings, you will achieve an extremely desirable result in your buttercream icing.
High Ratio Shortening will also give you better results when creating buttercream roses,flowers and piped figures on your cakes.
Cake decorators that are just starting out or have a home based cake decorating business, have been searching for the high ratio shortening online due to the fact that they have no idea where the professional cake artist get the product from.
The problem in the past is that you could only purchase the HRS from distribution houses in the 50 lb blocks.
The cake shortening is now slowly becoming available in 3# to 4# chunks for home use.
We Found the best price for the High Ratio Shortening in smaller pails on Amazon from CK 🙂
Related articles on Icing